MR. SALEH ALQUBAISHE, Al-Assasat Al-Watania CEO
Location: Riyadh, Saudi Arabia
Business activity: Construction and Infrastructure
Al-Assasat Al-Watania Contracting company is one of the pioneers working in the infrastructure sector in the Kingdom since 1970.
Over those 53 years, Al-Assasat Al-Watania has been a strategic partner in the Kingdom's largest and most remarkable projects, integrating their experience and powerful fleet of equipment to reshape the Kingdom's construction and infrastructure segment.
That's why Al-Assasat Al-Watania is currently working in NEOM, the next futuristic city in Saudi Arabia.
Komatsu and Al-Assasat Al-Watania: Building Tomorrow's Infrastructure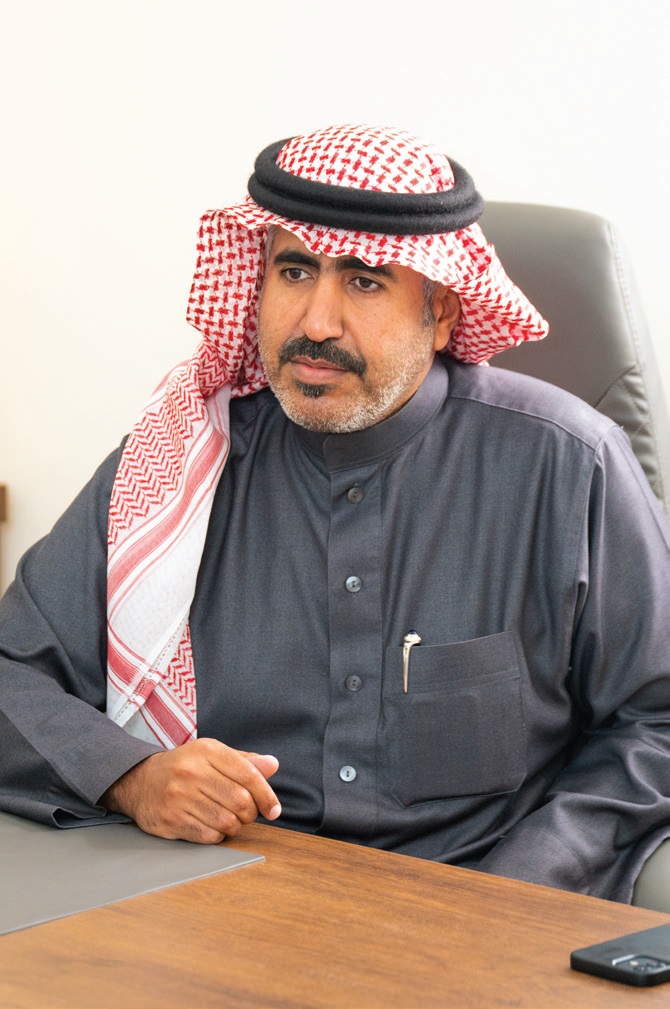 Collaboration is the multiplication of power. That's how the partnership between Al-Assasat Al-Watania and Komatsu was established 40 years ago by a decision from an industry giant to build a forceful fleet.
Mr. Saleh Alqubaishe, CEO of Al-Assasat Al-Watania, opens up about this longstanding partnership, "We have been doing business with Komatsu for more than 40 years since 1982."
Mr. Saleh elaborates that Komatsu has been one of the most trusted partners for more than 4 decades.
They rely on its high-quality machinery in their work, especially when working on Kingdom's visionary projects, NEOM and AMAALA.
He clarifies that their specialized niche necessarily demands complex heavy machinery, and while working on such mega projects there's no room for failures, defects, or delays and that's why they always choose Komatsu.
"The company operates most of its projects in infrastructure and earthworks.
90% of its business is earthworks cutting, drilling, and backfilling business and now most of our business is related to the Kingdom vision projects in NEOM, Red Sea, and AMAALA".
Komatsu's continued investment in advanced machinery is resulting in machines that run at optimum efficiency and drive businesses to achieve their operations and performance objectives.
The fact that Al-Assasat Al-Watania relies heavily on Komatsu is a showcase of Komatsu's promise of "Creating Value Together" and a game changer for Al-Assasat Al- Watania.
"High-Quality Machinery Investment Is Our Key To Maximizing Productivity."
Mr. Saleh discusses how they always invest in high-quality machinery to get the most value out of it.
"The durability and operation capacity of Komatsu Japanese machinery helps us to overcome any unpredicted challenges and obstacles.
It makes a huge difference for us" he says. Any construction work should essentially combine human and machine power.
Whenever machine capacity is maximized, human effort and error are minimized, ensuring job sites that are high-performing, highly productive, and much safer.
The Komatsu Way in Line with Al-Assasat Al-Watania
The Komatsu way is an approach to maximizing its value and reliability depending on its commitment to quality and innovation.
This is the encapsulation of 100 years of Komatsu.
However, Komatsu's commitment to machinery quality is one thing, the service quality and after-sale support are another.
Mr. Saleh weighs in on this combination of machinery and service quality.
"Komatsu has proved its quality in Saudi Arabia for over 40 years.
The machinery is actually of high quality and durability and is widely leveraged across giant contracting companies.
In addition, both Komatsu and their agent Abdul Latif Jameel have exceptional after-sale as well as equipment-health and maintenance management that's second to none in the industry.
Growth that's Driven by The Kingdom's Vision 2030
Mr. Saleh says "The Kingdom of Saudi Arabia is constantly evolving.
We see new projects in the span of almost every three or six months.
We are under the leadership of the Custodian of the Two Holy Mosques, may Allah protect him, King Salman, and Prince Muhammad bin Salman, the Prime Minister, may Allah protect him, in the Vision 2030.
His Highness the Crown Prince announces new and great projects leading the Kingdom to be one of the developed countries.
We expect that the implementation of these projects will take place within at least 10 or 20 years in the future".
He clarifies how this transformative shift is impacting the demand for machinery, and to keep pace with these fast-paced projects they are planning to double their machinery purchase in 2023.
But that's not all. He goes on to explain that "high-quality machinery, good and trained labor, and efficient management all are complementary to each other. Integration must happen among all these departments to bring our plans to fruition".
Mr. Saleh points out that they as a client always seek outstanding after-sales service.
With Al-Assasat Al-Watania constantly tracking and monitoring machine and equipment performance, Komatsu's and Abdul Latif Jameel Machinery's dedicated and highspeed after-sale support is best equipped to provide the required facilities and spare parts to streamline production and ensure the completion of projects.